Latest Technology of Hair Transplant in Jaipur
---
Welcome to Jaipur Skin city, the best clinic for hair transplant in Jaipur at affordable price. Dr Sachin Sharda is highly experienced Dermatologist in jaipur, a Skin Specialist in Jaipur and a surgeon of hair transplants and has successfully treated over 1 lac patients. If you are looking for hair transplant in Jaipur, then Jaipur skin city is the best hair transplant clinic with new hair transplant technique and have a high success rate.
---
Types of Hair Transplant
There are two types of hair transplant – FUT and FUE.
| FUT (Follicular Unit Transplant) | FUE (Follicular Unit Extraction) |
| --- | --- |
| Old technique | New technique |
| Strip is taken from donor area resulting in permanent tissue loss | Single follicle is taken |
| Scar is present in donor area after surgery | Stitch less |
| All hair in strip are taken that leading to more loss of hair from donor area | High quality hair follicles are taken |
| Natural look is not maintained | Natural look is maintained |
Hair Transplant Procedure at Jaipur Skincity
Hair Transplant is the process of regrowing natural hair. The procedure involves taking hair follicles from back side of your head (donor area) and implanted in front bald area (recipient area). Hair follicle on back of head are permanent follicles while those in front are temporary follicles. Temporary hair follicles are hormone sensitive and decrease with age. Permanent follicles are hormone insensitive and are implanted in bald area. The transplanted hair grow like natural hair and never fall again.
Cost of Hair Transplant in Jaipur
Hair transplant is a one time and life-changing surgery for most people. The new FUE technique is slightly expensive than old FUT technique. Jaipur Skin city offers FUE at the price of FUT without compromising quality and results.Hair Transplant Costvaries from case to case depending on the number of follicles required.
Benefits of Hair Transplant
Permanent Hair Transplant.
Provides Natural results.
Safe treatment with no risks.
Boost your confidence.
Jaipur Skincity is Rajasthan's only center that performs FUE cases. Our center does not perform the Old FUT technique. We use imported instruments and titanium punches to perform surgery. We use SAFE system for extraction of follicles. You can visit our center to see world class operation center and surgical instruments.
---
Results of Latest FUE Hair Transplant Technology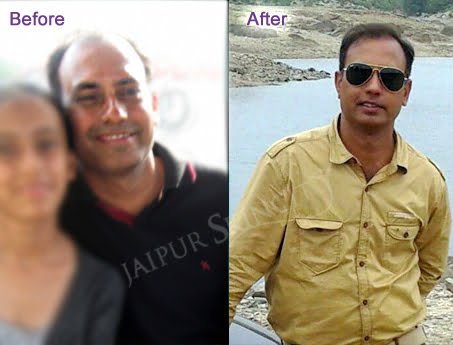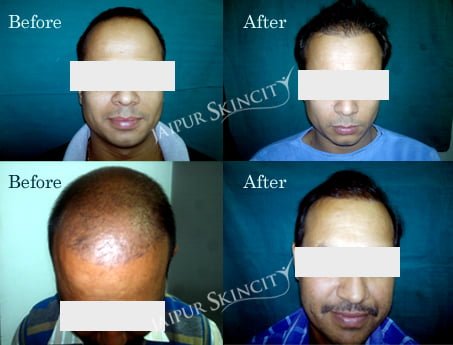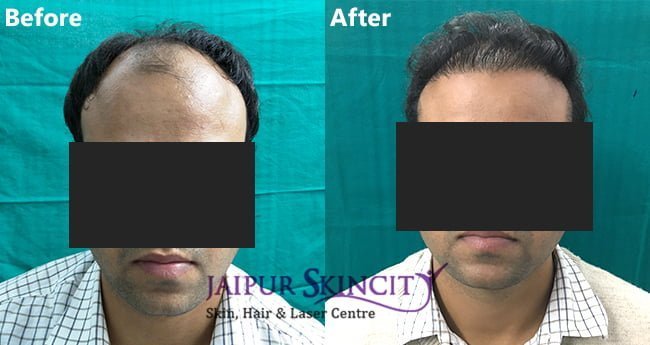 *Disclaimer: Results may vary significantly from patient to patient due to individual differences.
---
Why Choose Jaipur Skin City?
1 Lakh plus Happy Patients
New FUE technique.
World class titanium instrument.
Affordable FUE Hair Transplant.
Safe treatment without any side effects.
---
Testimonial's
"Jaipur Skincity was the best decision I ever made for hair transplant. I was loosing my confidence because of my baldness but now I had hair transplant at Jaipur Skincity at most affordable price. Look 10 years younger than before. Special thanks to Jaipur Skincity team."
"Very satisfactory hair transplant results, happy to get my natural hair back. Thanks doc!"
"I am fully satisfied with the surgical procedure of Hair Transplant at this centre. Ii appreciate their treatement with low cost."
---
FAQ's
The hair follicles are implanted on your head, the hair transplant produces permanent and natural results.
Definitely. In hair transplant hair roots are implanted which continue to produce hair as in normal condition. One can cut them, shave them, dye them and style according to his desire.
There is no long term adverse effect of hair transplant, only in rare cases swelling and folliculitis can be seen in short term which subsides within few days.
It's a single day procedure (approx. 8-10 hrs.)
Yes of course. Transplant is performed under local anesthesia. You can talk to us or listen to music during whole surgery.
No extra care is required after 10 days.
No medicines are required.
Hair will start growing within 10 days. Since growth rate of our hair is normally slow, it takes 4 months to get proper results.
Yes. Hair transplant is considered as most effective and long lasting treatment for pattern hair loss. Here your own hair which are not sensitive to hormonal effect are being transplanted to bald area. So they will last long. Rarely wrong selection of donor hair, wrong style of implantation may lead to early loss of transplanted hair.
Yes, you can do hair styling as per your requirement. These are made from real human hair and are very easy to use.
Yes, you can wash your head with shampoo or whatever you use. After wash you can dry with hair drier if you want.
Yes, As these are real human hair and you can do hair coloring as you want and match with you existing hair.