Microdermabrasion (Skin Polishing)
Microdermabrasion or Skin polishing is an exciting medical technique that removes the topmost layer of skin by, gently removing the skin using natural crystal chips while at the same time vacuuming the dead skin cells away in a sterile and controlled manner.
Why does one need skin polishing and brightening?
Environmental pollution harms all skin types and therefore everyone can benefit from this service. These factors cause our skin to get dull and pigmented. Skin Polishing & Brightening service by microdermabrasion reverses these effects. This service can also be undertaken as a part of your regular skin care and enhancement regime. It is recommended that you should be above 18 years of age to undertake this service.
What is the effect of Microdermabrasion?
This is a process that exfoliates, polishes, and increases the lymphatic drainage of skin.By removing dead skin cells, it gives a clean, fresh and radiant look to the skin. The skin cell and collagen stimulation minimize the appearance of skin pores.
What can microdermabrasion treat?
Microdermabrasion is effective in rejuvenating skin health and is ideal treatment for-
Treating dull and rough skin.
Uneven skin tone.
Removal of blackhead and whitehead.
hyperkeratosis.
Sun damaged skin.
Aging Spots.
Fine lines.
Minor scars.
The procedure of microdermabrasion treatment is performed by Dermapeel Gold machine at Jaipur Skin City. This contains a small handpiece that directs a steady stream of very fine crystals onto the targeted skin area, which helps in loosening the layer of dead skin cells that forms on the surface. Thus, giving a rejuvenated look.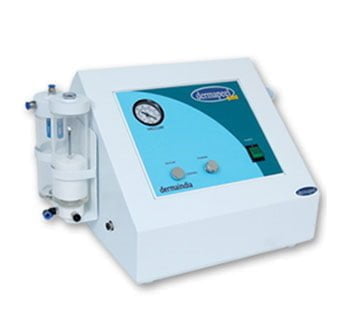 Which area can be treated?
It is most commonly used on the face, but can also be used on the neck, back, and hands.
How long does the service take?
The service usually lasts about 30-45 minutes per session.
How many Sessions are required?
An immediate improvement can be noticed even after the first treatment, You may go for this as a temporary glow and take it before any event or party.
However, best results are achieved with a dedicated series of at least 4-5 treatment sessions. To maintain the results a monthly session is recommended afterward.
The service can be used in synergy with chemical peels for better results and can also be undertaken as a part of your regular skincare regime.
Is there any side effects of Microdermabrasion?
No, it is a completely safe procedure and is recommended for all skin types. Moreover, there are no side effects. The very sensitive skin may, however, become red due to the exfoliation action. This subsides within hours. In extra sensitive skin, it may last for 1 day. A cold compress is recommended in such a rare case.
Is there any post-procedure care required?
Microdermabrasion requires no post service care. You can resume normal activities immediately. However, in some cases of sensitive skin, direct exposure to sunlight should be avoided and a sunscreen with a minimum SPF of 30 should be used regularly.
Advantages:
No side effects.
Gives the skin a fresh and healthy looking glow.
No anesthesia required.
Can be done on all skin types.
Normal activities can be resumed immediately.
Why "Jaipur Skin City" For Skin Polishing Procedure?
The best Dermatologist in Jaipur, Dr Sachin Sharda, uses the safest and sterilizing methods. The procedure is done under complete medical guidance.
Skin polishing procedure can be combined with other treatment options such as Peels, dermaroller or topical /oral medications as per requirements.
Apart from the Skin Polishing Procedure, Dr Sachin Sharda Also Provides other laser treatments like Laser Tattoo Removal, Laser for Acne Scars, Laser Stretch Mark Removal, and Laser Hair Removal in Jaipur.