Welcome to Dr. Sachin Sharda's Jaipur Skin City, the best clinic for hair transplants in Jaipur at an affordable price. Dr Sachin Sharda is a highly experienced Dermatologist in jaipur, a Skin Specialist in Jaipur and a surgeon of hair transplants. He has successfully treated over 1 lac patients. If you are looking for a hair transplant in Jaipur, then Jaipur Skin City is the best hair transplant clinic with a new hair transplant technique and a high success rate.
---
Why Choose Jaipur Skin City?
Dr Sachin Shrada is a highly experienced dermatologist in jaipur who has successfully treated over 1 Lakh satisfied patients.
In Jaipur Skincity Clinic, he uses the latest FUE technique for hair transplant treatment.
The World-class titanium instruments are equipped at Jaipur Skincity.
He provides the most affordable FUE Hair Transplant in Jaipur.
Dr Sachin Sharda's hair transplant treatment has minimal risk of side effects.
---
Hair Transplant Procedure at Jaipur Skincity
Hair transplant is the process of regrowing natural hair. The procedure involves extracting hair follicles from the backside of your head (the donor area) and implanting them in the front bald area (the recipient area). Hair follicles on the back of the head are permanent, while those in the front are temporary. Temporary hair follicles are hormone-sensitive and tend to decrease with age. In contrast, permanent follicles are hormone-insensitive and are transplanted into the bald area. The transplanted hair grows like natural hair and never falls out again. A hair transplant is a reliable and long-lasting solution for hair loss, allowing individuals to regain confidence and achieve a youthful appearance. Our skilled professionals at Jaipur Skin City perform the procedure, ensuring the best results for your hair restoration journey.
---
Major Hair Loss Patterns
Hair Loss Patterns describe the distinct ways in which hair on a person's scalp thins or recedes, aiding doctors in choosing the best method for a hair transplant.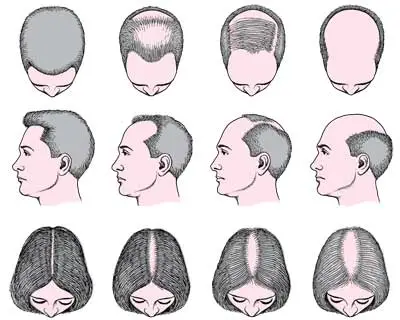 ---
Types of Hair Transplant Treatment at Jaipur Skincity
There are two main types of hair transplant techniques:
FUT(Follicular Unit Transplant) – Follicular Unit Transplant is an old hair transplantation technique and it is a Surgical procedure. In this technique, a strip of skin is removed from the back side of your head, and its strip contains hair follicles. Then, this strip is divided into multiple graft units and replanted in the recipient area of your head. It is the most popular hair transplant technique, and this liner strip method is used to transplant hair follicles into the area of thinning.
FUE(Follicular Unit Extraction) – Follicular Unit Extraction is the most popular and new technique of hair transplantation at the present time. In the technique, the single follicle is taken from the donor area of the body and implanted in the recipient area of the head. The FUE hair transplant method is stitch-free, so no major scar is left in the donor area. A dermatologist takes all the high-quality follicles from the donor area in this method, and it helps maintain the natural look.
---
FUE vs FUT Hair Transplant at Jaipur Skincity
At Jaipur Skincity, there are two main types of hair transplant techniques that are performed: FUE and FUT. So many doctors prefer FUE hair transplant treatment because it is simple. This hair transplant technique needs lots of experience and skills.
Dr Sachin Sharda, our expert dermatologist in jaipur. He is able to use more than one technique. First, he checks the patients and then provides treatment according to the condition of the patient. He is one of the best dermatologists in jaipur and provides the best FUE and FUT Hair Transplant Treatment across jaipur.
If we are talking about the cost of both hair transplants in jaipur, it is reasonable, but you need to be more careful when you choose the clinic for hair transplant treatment. Many doctors and clinics provide low and different-quality hair transplant treatment. At Jaipur Skincity, we provide top-notch treatment for hair transplants at a reasonable price.
If you need more information about hair transplants, Just book an appointment with jaipur skincity. Jaipur Skincity provides the best experience for hair transplants.
---
Factors to Consider Before Hair Transplant Treatment
At present, so many people are suffering from hair loss problems, and every person cannot afford Hair Transplant Treatment because hair transplant surgery is so expensive. If you are thinking of getting a hair transplant treatment, you need to consider these important things before a hair transplant –
1. Reasons Behind Hair Loss – Hair loss is a common problem, and there are so many reasons behind hair loss, like stress, illness, medicines, injuries, health problems, and diet. If Alopecia Areata is the reason behind the loss, then a hair transplant will definitely help you.
2. What's Your Age – Age plays an important role in your Hair Transplant. How your hair transplant works it is depends on your age. So, before you get a hair transplant, it is very important that you consult with an expert dermatologist. He monitors your hair loss problem properly.
3. Options Besides Surgery – If you are thinking of getting a hair transplant treatment, you need to know about the options for hair transplant treatment. There are two main types of hair transplant treatment: FUT(Follicular Unit Transplant and FUE(Follicular Unit Extraction).
4. Cost of Hair Transplant – The hair transplant treatment is an expensive treatment, and the cost of a hair transplant varies on how many hair follicles you need. The hair transplant cost starts from 20,000 INR to 110,000 INR at Jaipur Skincity. The Hair transplant cost also depends on the experience of a dermatologist and the location of the clinic
5. Choose an expert Dermatologist – When you think about getting hair transplant treatment, you need lots of research for a good and experienced dermatologist. Before choosing a dermatologist for a hair transplant, you must check how many patients treat that doctor and how many surgeries are performed. An expert dermatologist provides the best hair transplant treatment.
---
Cost of Hair Transplant in Jaipur
A hair transplant can be a life-changing surgery, usually done just once. The newer FUE technique costs more than the old FUT technique. At Jaipur Skin City, we offer FUE at FUT prices without compromising quality. The hair transplant costs vary based on the clinic and how many grafts you need. The hair transplant cost in jaipur starts from INR 20,000 to INR 110,000 or more.
---
Benefits of Hair Transplant
Permanent Hair Transplant.
Provides Natural results.
Safe treatment with no risks.
Boost your confidence.
Jaipur Skincity is Rajasthan's only centre that performs FUE cases. Our centre does not perform the Old FUT technique. We use imported instruments and titanium punches to perform surgery. We use the SAFE system for the extraction of follicles. You can visit our centre to see world-class operation centres and surgical instruments.
---
Benefits of FUE Hair Transplant Technique
At present, many people are facing hair loss problems, and there are many hair treatments and techniques available, But FUE (Follicular Unit Extraction) hair transplant treatment is the most popular treatment at the present time. So, we provided some benefits of the FUE hair transplant Technique –
Virtually no scarring – In the FUE hair transplant technique, a dermatologist removes the individual follicles from the back side of the head and replants on the target area. In the technique, the dermatologist doesn't remove large strips of hair, so it's stitches-free.
Pain-Free – In the traditional method, the dermatologist removes large strips from the scalp, which takes time to heal. But in the latest FUE technique, pain-free because dermatologists remove and replant individual hair follicles.
Better results with healthier hair – With FUE treatment, the graft survival rate is so high compared to other hair transplantation techniques, so FUE treatment provides you with Fuller and Thicker hairs.
Less risk of infection – The Follicular Unit Extraction hair transplantation treatment is completely risk-free. In the traditional Technique, It is possible to develop a postoperative infection at the donor or transplant site. But With FUE, There is less risk of infection.
No general anaesthesia is required – There is no need for general anaesthesia with the least invasive FUE procedure. Once your treatment is done, you are free to go home. Even better, you can travel independently to and from your appointment.
Fastest recovery possible – With this FUE procedure, you will enjoy the fastest hair transplant recovery compared to other techniques. The Follicular Unit Extraction Treatment provides your hair extremely fast.
Along with the Hair Transplant, Dr Sachin Sharda Also Provide other laser treatments like Laser Tattoo Removal, Laser for Acne Scars, Laser Stretch Mark Removal, and Laser Hair Removal in Jaipur.
---
Customer Reviews

4.3
RATINGS
(168 REVIEWS)

5
RATINGS
(3113 VOTES)

4.5
RATINGS
(315 VOTES)
---
After and Before Results of FUE Hair Transplant Technology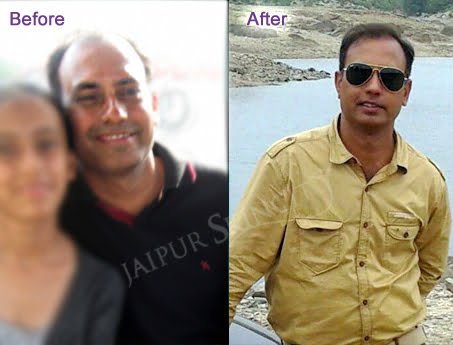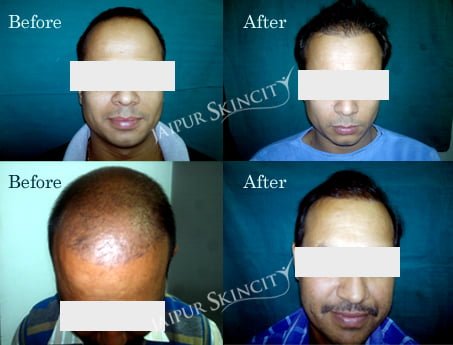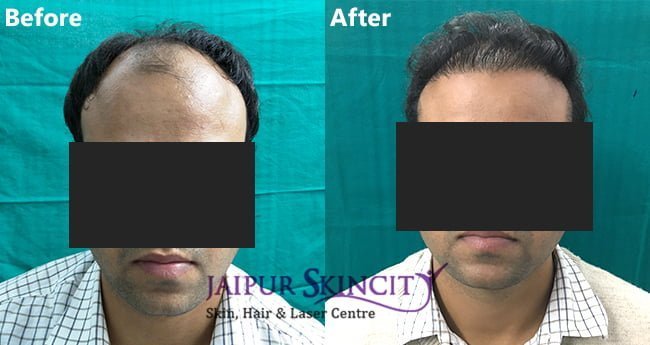 *Disclaimer: Results may vary significantly from patient to patient due to individual differences.
---
Testimonial's
"Jaipur Skincity was the best decision I ever made for a hair transplant. I was losing my confidence because of my baldness, but now I have a hair transplant at Jaipur Skincity at the most affordable price. Look 10 years younger than before. Special thanks to the Jaipur Skincity team."
"Very satisfactory hair transplant results, happy to get my natural hair back. Thanks, doc!"
"I am fully satisfied with the surgical procedure of Hair Transplant at this centre. I appreciate their treatment with low cost."
---
FAQ's
The hair follicles are implanted on your head, the hair transplant produces permanent and natural results.
Definitely. In hair transplant hair roots are implanted which continue to produce hair as in normal condition. One can cut them, shave them, dye them and style according to his desire.
There is no long term adverse effect of hair transplant, only in rare cases swelling and folliculitis can be seen in short term which subsides within few days.
It's a single day procedure (approx. 8-10 hrs.)
Yes of course. Transplant is performed under local anesthesia. You can talk to us or listen to music during whole surgery.
You can typically return to work within 1 to 2 weeks after a hair transplant surgery, depending on your comfort level and the nature of your job. Some people may return sooner, while others prefer a bit more time for recovery.
No extra care is required after 10 days.
No medicines are required.
Yes. Hair transplant is considered as most effective and long lasting treatment for pattern hair loss. Here your own hair which are not sensitive to hormonal effect are being transplanted to bald area. So they will last long. Rarely wrong selection of donor hair, wrong style of implantation may lead to early loss of transplanted hair.
Yes, you can do hair styling as per your requirement. These are made from real human hair and are very easy to use.
Yes, you can wash your head with shampoo or whatever you use. After wash you can dry with hair drier if you want.
Yes, As these are real human hair and you can do hair coloring as you want and match with you existing hair.
The number of grafts needed for a hair transplant varies depending on individual factors, such as the extent of hair loss and the desired outcome. 2000 grafts can cover a moderate area, but it's best to consult with a hair transplant specialist who can assess your specific situation and recommend the appropriate number of grafts.
Yes, if needed, multiple hair transplant procedures can be done over time, as long as sufficient donor hair is available. Each transplant should be carefully planned to achieve the desired results without depleting the donor area excessively.
Hair transplantation involves removing hair follicles from a donor area (usually the back or sides of the head) and implanting them into the recipient area (where hair is thinning or lost). The most common techniques are FUT (strip method) and FUE (follicular unit extraction). These procedures are performed under local anaesthesia.
A suitable candidate typically has stable hair loss and adequate donor hair. Consultation with a hair transplant specialist is necessary to determine your eligibility and discuss your options.
There is no strict age limit, but candidates should be healthy and have realistic expectations. Surgeons may evaluate younger patients more carefully due to the potential for future hair loss.
FUT may leave a linear scar at the donor site, which can be concealed by longer hair. FUE leaves tiny, less noticeable scars that often heal well. Both techniques have improved over the years to minimise scarring.
The procedure is typically performed under local anaesthesia, so you should not feel pain during the surgery. Some discomfort and soreness can be expected during the recovery period.
Recovery time varies, but most patients can return to regular activities within a week. Full recovery and the appearance of final results may take several months.
Potential side effects include swelling, bruising, and temporary shock loss (temporary shedding of existing hair). Risks can include infection, scarring, or unnatural-looking results, but these are rare when performed by a skilled surgeon.
Hair transplant costs vary widely depending on the clinic, technique, and the number of grafts needed. The cost may range in Jaipur from INR 20,000 to INR 110,000 or more.
Initial results may become visible within a few months, but final results can take up to a year as transplanted hair gradually grows and thickens.
Transplanted hair requires regular washing and grooming, similar to your natural hair. Your surgeon will provide specific post-op care instructions.
The success rate of hair transplants can vary based on various factors. It's essential to choose a reputable clinic and experienced surgeon. You may inquire about success rates during a consultation.
Consultation fees can vary by clinic. Some clinics offer free consultations, while others may charge a fee. It's best to inquire with Jaipur Skin City or your chosen clinic directly.