PRP Therapy
---
Platelet Rich Plasma, popularly known as PRP is prepared from the blood of the patient with a predominantly high concentration of platelets in a limited volume of plasma. Platelet rich plasma contains bioactive proteins and growth factors which work actively to modulate cell growth as well as activity.
In the course of PRP Treatment to improve the hair growth, it is either conducted by injecting it or applying it locally after a dermaroller.
---
Benefits of PRP Hair Loss Treatment
Proven results in different scientific studies all over the world
Since it is autologous (your own), this method eliminates the risk of transmissible infections.
It is free of any risks of allergic reactions, being autologous.
This is an office-based treatment.
The price of this treatment is quite affordable as compared to other treatment options.
---
How does PRP work ?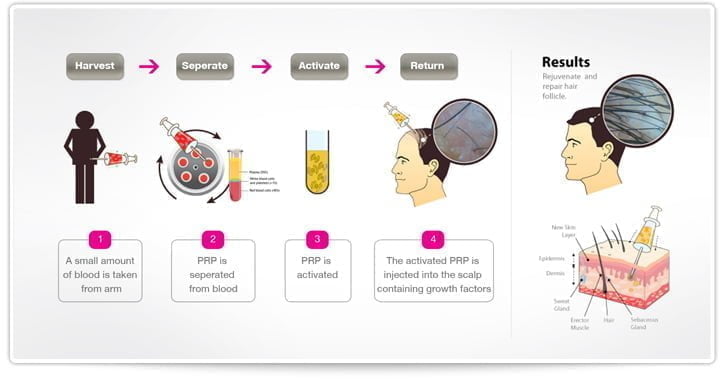 Platelets contain growth factors essential for tissue healing and repair. In the body, When tissue becomes injured, platelets are responsible for clotting blood to stop bleeding and stimulating cells to cause healing. This is their normal function. It has been found that these growth factors can cause multiplication of cells of different types including hair cells and skin cells. Hence they are being used to treat hairloss, after hair transplantation, to treat scars such as pimple scars, skin rejuvenation of ageing skin.
It Prevents Further Hair Loss
It rejuvenates thinning of hair so that the follicle is stimulated make the hair grow thicker. It strengthens the hair root
it also prepares the skin and hair for an upcoming hair transplant, PRP has long been known for its benefit in preparing the region for a hair transplant
---
Where can PRP be used?
There are various surgical and medical indications of PRP injection like in dental, orthopedics, traumatology and in wound healing.
However, in the field of Dermatology it has been used extensively for –
Skin rejuvenation called VAMPIRE LIFT (SO CALLED BECAUSE BLOOD PRODUCT IS BEING INJECTED IN TO SKIN)
Acne scars,
Male/female pattern hair loss.
After hair transplantation to enhance grafted hair growth and donor healing
Generally people who have lost all hair should not opt for this procedure as it does not help grow new hair. It can only thicken the existing hair by strengthening hair follicle.
---
Procedure
It is a straightforward, half-an-hour lunchtime procedure and you can join your work immediately after the treatment.
First blood is drawn from your vein like you give blood for any other blood test.
Then this blood is processed and centrifuged and PRP is separated from the rest of the blood.
Finally, topical anaesthesia injects PRP into the scalp using a derma roller or micro-needling.
Studies show that, unlike in the treatment of tendons and ligaments, stimulation of hair regrowth requires plasma with a much higher concentration of platelets for successful results. Here at Jaipur Skincity, your blood platelets are concentrated to the highest concentration.
PRP therapy can be repeated every 1-2 months and usually, 3-4 sittings are sufficient, though some patients may require maintenance therapy once a year or more frequently depending upon the severity of hair loss
Thinks to Remember Before PRP treatment
Discussion with a Skin Doctor in Jaipur about skin problems and treatment
Pre-procedure skin care – Regular use of sunscreen
Routine blood investigation
Good breakfast or meal before the visit
Visit clinic without make up
Thinks to Remember Day of PRP?
It starts with the application of topical anaesthetic on the skin to be treated. PRP therapy for hair fall doesn't require numbness cream.
Thinks to Remember After PRP Therapy
You may have mild redness and oedema. The feeling of little bumps may be there because of PRP injections. Skin nourishing serum and sunscreen applied on treatment area. Redness and swelling resolve in 2-3 hours. You can wash your face with gentle cleanser. Sunscreen and other skin care products should be applied as the dermatologist advised.
---
Before & After PRP Hair Loss Treatment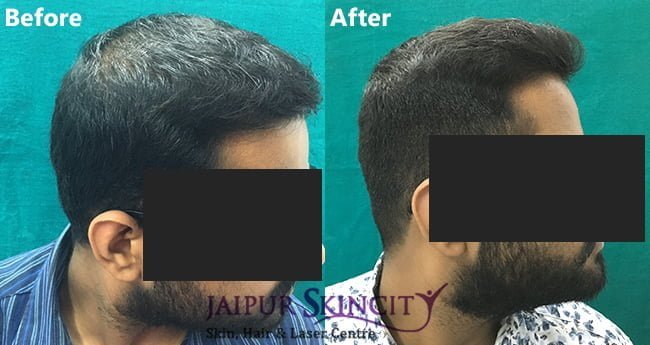 *Disclaimer: Results may vary significantly from patient to patient due to individual differences.
---
Cost of PRP treatment in Jaipur:
The PRP treatment cost ranges from Rs. 3000 to Rs. 5000 for every session. The price will change according to the need of the patient. The fundamental variables behind the expense are as per the following-
The number of sessions you require
Your required hair density
Your treatment area
---
Male Hair Loss: Reasons, Pattern, and Effective Treatments
Apart from Hair Loss Treatment, Dr Sachin Sharda Also Provides other laser treatments like Laser Tattoo Removal, Laser for Acne Scars, Laser Stretch Mark Removal, and Laser Hair Removal in Jaipur. He is also an expert in hair transplant in jaipur. Save on expenses with his affordable laser hair removal and hair transplant cost in Jaipur.
---
FAQ's
You may have swelling, redness, and pain just after your treatment for a couple of hours or days.
PRP treatment works very well to cure baldness. It provides a more effective result in combination with other treatment procedures.
There are certain situations when you cannot receive PRP hair treatment. These situations are as follows:
People having Cancer
People who are suffering from Immunosuppressive illness
Chronic liver illness
Platelet variation from the standard norms
Infectious dermatological illness
Metabolic issue
Pregnancy-related issues
Other than these anybody who is having massive hair loss can opt for PRP treatment
PRP hair treatment is a non-invasive technique. It utilizes your platelets to restore hair follicles present in your scalp. The platelet rejuvenates your hair follicles as a result you will get a healthy natural look. The treatment is absolutely safe.
There is no precaution for head wash after PRP therapy. You can follow your daily routine.
Skin treatment through PRP is virtually painless as a topical anesthetic is applied before the procedure. During hair treatment, you may feel slight pain and a pricking sensation. A slight headache may be there for 4-6 hours, resolving independently.