What is Low-Level Laser (light)Therapy (LLLT)
---

Low-powered (cold) lasers generate laser light which is known to provide light energy to all the hair roots which accelerates the growth of hair. The laser light is known as LLLT or Low-Level Laser Therapy. LLLT is many a time included under a wider definition of 'Phototherapy' or photo-biomodulation which is known as Low-Level Light Therapy.

LLLT is clinically proven to treat hair loss, promote hair growth, make hair thicker, fuller, stronger and improve the Hair Mass Index.
It does so by the following mechanism –
increasing growth factor production in the hair follicles,
improves cellular level respiration,
increases ATP production.
LLLT works by increasing blood flow to the scalp and hair follicles, encouraging hair volume and healthier looking hair.
---
What is Low-Level Laser Light?
Simply stated, it is a compressed light of a wavelength from the cold, red part of the spectrum of electromagnetic radiation. It is different from natural light in that it is one precise color; it is coherent (it travels in a straight line), monochromatic (a single wavelength) and columnated (it concentrates its beam in a defined location or spot).
---
High Power vs. Low-Level Lasers
Unlike high power lasers, low-level systems do not give off heat, instead use photo energy.
---
How does it work?
Infrared light increases cellular metabolism, blood circulation, and oxygen supply to the follicles in the scalp and converts 70% of hairs from the resting phase to the growing phase.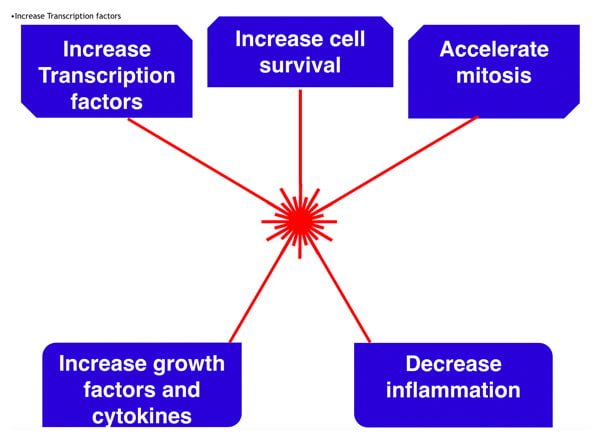 ---
(Cold)Laser light Treatment Protocol/Duration
Hair growth using LLLT is not a one-time 'fix' for hair loss. It must be repeated at intervals to maintain results. Typically, 2- 3 sessions per week for half hour is given for approximately 4 to 6 months to reverse hair thinning/loss, and effectively grow new healthy hair.
Once hair growth is achieved, a 'maintenance' schedule of 1 to 2 sessions per week is strongly recommended to maintain new growth, and keep the hair looking healthier, fuller, and more vibrant.
---
Advantages of LLLT
The progression of loss of hair is stopped
Augments the supply of blood to the scalp
Accelerates the hair follicles
Increases the elasticity and strength of hair
Some facts to be noted
Most common Non-Surgical Hair Loss treatment in the world.
Proven Technology to regrow hair since 1967.
USFDA approved technique.
Over 200 research publications & 6 human clinical trials.
#1 Recommended Non-Surgical Hair Loss treatment by USA Physicians.
No side-effects; Completely Safe, holistic, non-invasive.
90% of patients see stabilisation of hair loss and 50% see regrowth of new hair

---
Laser Light Therapy Advantages at Jaipur Skincity
Jaipur skincity is well known for providing the latest technology and world-class services in India. Now we have added LLLT therapy for Hair Fall stabilization for both in male and Female pattern hair loss.
We offer LLLT technology, which is designed and crafted to cover the scalp effectively. The inner helmet canopy is designed to conform to the contour and curvature of the scalp, ensuring consistent and equal distribution of both low-level laser and LED lights for optimum results.
Patients being treated for hair loss sit comfortably under the lasers as they gently delivers the phototherapy to the scalp.
There is no pain or discomfort from the therapy; patients do report some "scalp-tingling".
In comparison to laser combs and brushes, which are neither hands-free nor provide full scalp coverage, our LLLT technology is Hands-Free with No Manual Movement, giving Freedom to Incorporate Additional Activities like listening to music.
Meet the expert for Low-Level Laser Therapy (LLLT) and Laser Hair Removal in Jaipur. If you're wondering if LLLT is the right choice for you, consult with Dr. Sachin Sharda, a highly experienced Dermatologist in Jaipur. Dr Sharda specializes in various hair-related treatments, including low-level laser therapy, laser hair removal, and hair transplants in jaipur. He is also provide affordable laser hair removal and hair transplant cost in jaipur. To schedule your appointment and discuss your concerns, please call us at 9468975757. Dr Sachin Sharda is dedicated to providing the best solutions for your hair-related issues.
---
FAQs
What are the results?
Low-Level Laser Therapy stabilizes the progression of hair loss in 90% of men and women and prompts re-growth of the dormant follicle in approximately 50% of patients. Low-Level Laser Therapy also repairs and improves the quality of hair to make it fuller, softer, and more manageable.

How Soon Can I Expect to See Results?
The appearance of reduction of hair loss usually occurs after five to six treatments. Some patients and clients have also indicated that they have also experienced some regrowth after 10-12 treatments.
Is It Safe?
Yes. LLLT meets all international safety standards and legislative specifications of a "non-significant risk" product, and is classified as a Class IIIA cosmetic laser.
Low-Level Laser Therapy is non-invasive.
There is no burning,
No UV radiation,
No pain or discomfort to the patient.
Patients are immediately able to resume their regular activities.
Who is the Candidate?
Low-Level Laser Therapy is designed for anyone just starting hair loss. Men and women alike can benefit from treatment. We can list them in
Male and female pattern hair loss.
Post-hair transplant patients for better patient outcomes.
Primary treatment for female hair loss.
Chemo-induced Alopecia.
Non-genetic hair loss – hormonal, stress, pollution, diet.
---
Male Hair Loss: Reasons, Pattern, and Effective Treatments