Want to know how to massage hair for proper hair growth?? Performing a hair care regimen that keeps hair clean, conditioned and moisturized helps to ensure that hair grows out strong and healthy. Massaging your scalp, if done the proper way, provides lots of benefits to your hair and your whole body. Your hair will become shinier and thicker. Scalp massage therapy is possibly one of the most relaxing treatments in the world (next to foot massages!). 
Adding a scalp massage to a hair care regimen can do many benefits like-
Stimulates the scalp.

Improves circulation to the hair follicle, the root of the hair, which is the only living part of the hair.

Reduces stress.

Promote an overall feeling of relaxation.

Those looking to promote hair growth should consider performing scalp massages regularly. Because massaging your scalp promotes circulation to the hair follicles, the hair that will grow out of your scalp is healthier.
Also Read: Summer Hair Care: Tips to Take Care of Hairs in Summer
How to Massage Hair – The Perfect Procedure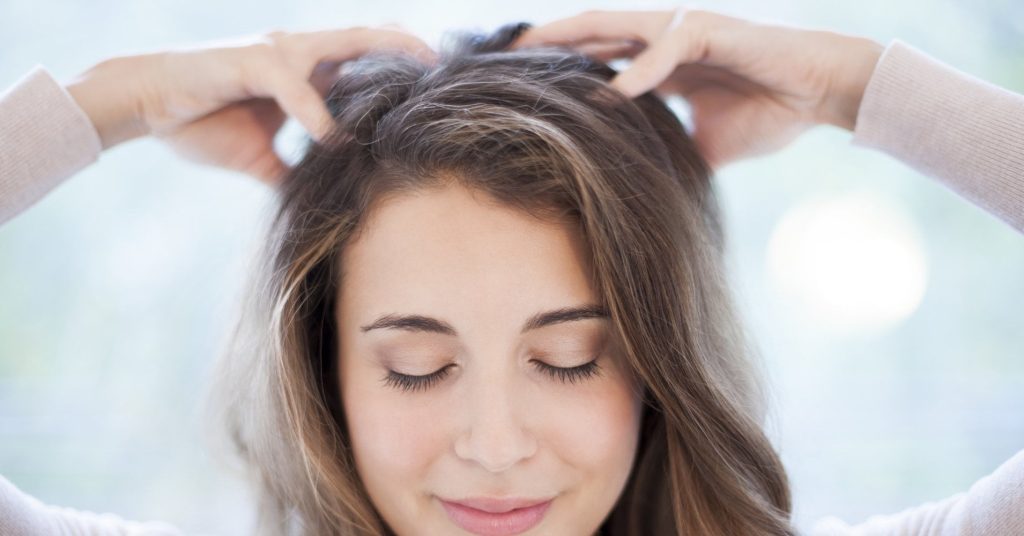 Hair care routines are pretty simple, even if you're just doing them yourself. We suggest joining up with a friend and exchanging hair massages if you can (it just works better that way), but you can turn this into a solo act as well.
There is no strict rule in giving a scalp massage except that you should not use your fingernails. You should also avoid applying too much pressure on sensitive areas like the temple and nape.
Wash hair with shampoo and rinse thoroughly.
Do the hair massage with fingertips in a circular motion.

Start from the edges of the hairline and work your way in toward the crown. This will stimulate the lymphatic drainage as well, and that starts at the periphery.

Work slowly and gently, covering your entire scalp.

Massage at least for 3 minutes or longer and do it at least once or twice weekly.

There's no need to use any oil or serum. But some people like to include aromatherapy.  Use essential oil or coconut oil which is good for conditioning and increasing blood circulation in the area. This also helps in relieving the stress.

To gets the full benefits of the oil, leave it in for at least twenty minutes and up to overnight. You can wrap your hair up in a towel to keep it from getting all over the place.

To really get the spa effect, put your towel in the dryer for a few minutes to warm it up.

Alternately, place hair under a clean shower cap, processing cap, or plastic bag and either sit under a heat cap or steamer for 15-20 minutes or just allow your body heat to nourish your hair during the treatment.

Wash after half an hour with shampoo and do conditioner.
However, you must keep in mind that a scalp massage doesn't work like magic. Its role is to stimulate blood circulation so that the nutrients that you get from your food can effectively reach your hair follicles. Most of all, eating a balanced meal and having a proper lifestyle contribute the most for healthy hair growth. 
Also, Read: How to soften hair 
Consider Dr Sachin Sharda if you require any type of hair-related treatment. The best hair-related therapies, including low-level laser therapy, laser hair removal, and hair transplant in Jaipur, are offered by this highly skilled dermatologist in that city. Looking for affordable solutions? Check out his laser hair removal and hair transplant cost in Jaipur.