Today, we are providing a light towards the causes of Hair Fall. In today's era when looks have become a prime important thing, hairs are the essential part to be taken care of, as they make a major part of the face value. So although hair loss is very common with everyone, it can be a tough thing to live with especially when it changes your appearance.
Everyone loses some hair every day. Losing up to 100 hairs a day is normal.
But if hair loss runs in your family, you could lose a lot more hair. With this kind of hair loss, you may end up with bald spots if you are a man. If you are a woman, you may find that the hair on the top of your head is slowly thinning. About half of all people have this type of hair loss by around age 50. In medical terminology, this is known as Alopecia.
Causes of Hair Fall
Family history- In most cases, hair loss is inherited, which means it's passed down from one or both of your parents. This is called male-pattern (Alopecia Areata)or female-pattern hair loss. Heredity is one of the major causes of hair fall.
Stress, including physical stress from surgery, illness, or any emotional stress is the second most important reason of hair fall.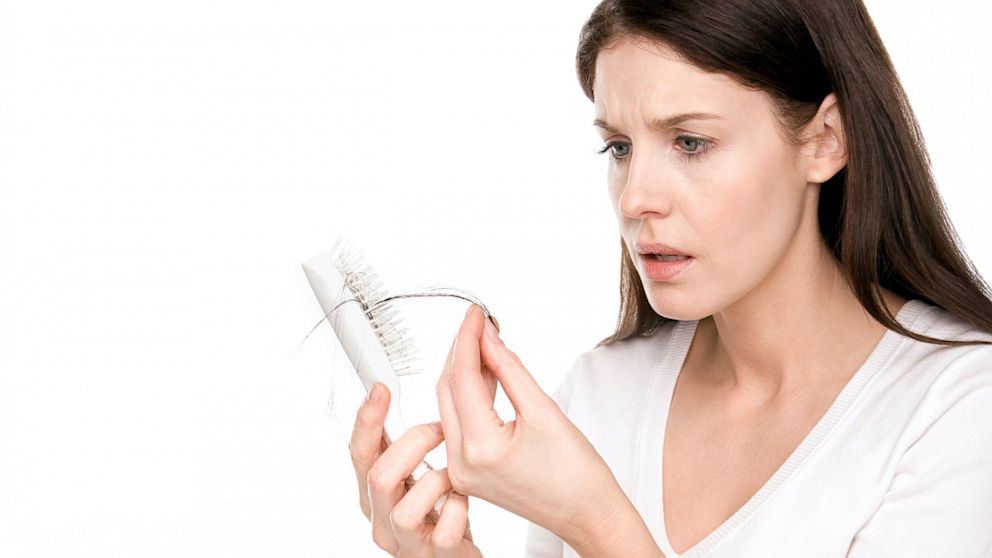 Poor diet, especially not getting enough protein or iron is the third most important cause of hair fall.
Then there may be many more individual reasons for hair fall like
Damage to your hair from pulling it back too tightly, wearing tight braids or ponytails, or using curling irons or dyes.
Age- You grow less hair as you get older. Hair also gets thinner and tends to break more easily as you age. Aging is the major cause of hair fall in men.
Ringworm of the scalp

, which is common in children is also a reason for hair fall.

Some kind of powerful medicine that destroys cells can affect the hair cells also(For Example- Chemotherapy for cancer)

Thyroid

diseases, such as

hypothyroidism

and

hyperthyroidism are also the causes of hair loss.
Pollution and exposure to ultraviolet radiations of Sun is also a cause of hair fall in individuals with low immunity.
Also Read: Do Dandruff Cause Hair Loss? Dandruff and Hair Fall Correlation!
How you choose to treat your hair loss depends on the cause of hair fall. It also depends on your feelings. You may decide that you need treatment, or you may not be worried about thinning hair or baldness. The choice is up to you.
If hair loss is caused by something you can control, like stress or medicines, or any infection one can treat it by getting rid of the cause.
Hair loss that runs in the family can be treated with medicines or various therapies or hair transplant surgery.
Also Read: Summer Hair Care Tips
Will your hair grow back?
When your hair loss is inherited, your hair won't grow back naturally. Treatment can help some hair grow back and prevent more from falling out, but you probably won't get all your hair back. And treatment doesn't work for everyone.
When medicines, stress, or hair damage cause hair fall, it often will grow back after you take away the cause. If this doesn't help, you may need other treatments like PRP hair fall treatment or Mesotherapy for hair fall treatment.
Fight Hair fall with JaipurSkinCity?
We at Jaipur SkinCity provide end to end customized solution for every individual with the facility of world class instruments, innovations and renowned doctors counsultation.
Honest openion with value for money services maintaining the quality services are our best approach .
Dr Sachin Sharda can help you with any hair-related procedure. He is a highly skilled Dermatologist in Jaipur who offers the best hair-related treatments such as low-level laser therapy, laser hair removal, and hair transplant in Jaipur. Dr Sachin also Sharda delivers affordable laser hair removal and detailed information on hair transplant cost in Jaipur.